Scholars Wall Bushra Saeed Admitted to Southeast University China || China Scholarship 2022-2023 Admitted Candidates CSC Guide Officials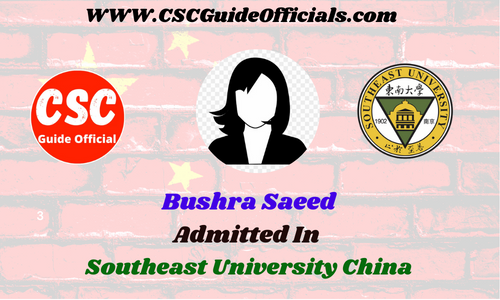 Student Name: Bushra Saeed
From: Pakistan, Punjab, Lahore
Chinese Admitted University Name: Southeast University China
Program: PhD
Major: Finance
Type of Scholarship: CSC Fully Funded Scholarship

Comment about CSC Guide Official ( Scholarship Applying Journey):
Apart from my efforts … Your support in terms of video guidance makes me more effective and makes my ways easy for applying, when I am stuck in any part I ask a question and got the answer the very next day in video …… I am also thank full to your support and appreciate your work …. Allah blesses you and gives more successful life and makes be able to us like you helping others…
Note: This is just for motivation, these students applied by themselves and get Fully-funded Scholarships. In Sha Alla next year your information will be updated here. These Students Follow the CSC Guide Official Website and get the latest updates. Follow the CSC Scholarship 2023-2024 Procedure.