Scholars Wall Hina Mujtaba Admitted to Xian Jiaotong University (XJTU) || China Scholarship 2022-2023 Admitted Candidates CSC Guide Officials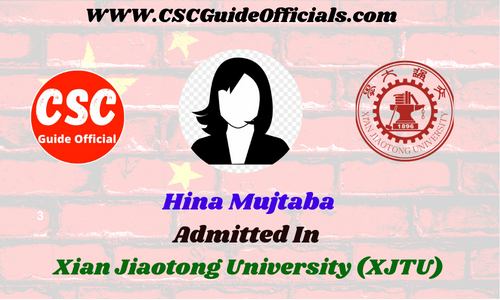 Student Name: Hina Mujtaba
From: Multan, Punjab, Pakistan.
Chinese Admitted University Name: Xian Jiaotong University (XJTU)
Program: PhD
Major: Applied Economics
Type of Scholarship: CSC Scholarship

Comment about CSC Guide Official ( Scholarship Applying Journey):
I really appreciate your efforts for us. Allah will give you its rewards as you are helping others in free of cost.
I just want to explain about my journey for getting this  CSC scholarship. Last year when I completed my master's so I applied for PhD in China and search on YouTube for guidance that how to apply. I found your helping videos and start to follow all of your videos. It was so helping that you guided us step by step each and everything about the application process, fee submission and daily basis follow-up. Finally I got CSC scholarship in XJTU. Thank you so much for your guidance.
To be honest, I don't know how you manage to do such a good job every single time. Very well done!
Note: This is just for motivation, these students applied by themselves and get Fully-funded Scholarships. In Sha Alla next year your information will be updated here. These Students Follow the CSC Guide Official Website and get the latest updates. Follow the CSC Scholarship 2023-2024 Procedure.