Scholars Wall Irum Zeb Admitted to Huazhong University of Science and Technology (HUST) || China Scholarship 2022-2023 Admitted Candidates CSC Guide Officials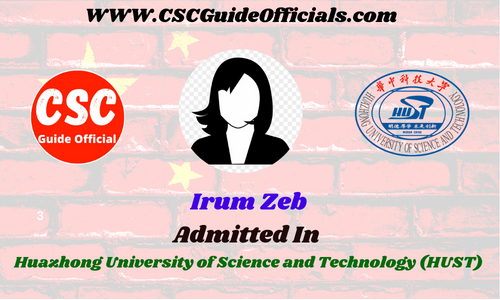 Student Name: Irum Zeb
From: Abbottabad, KPK, Pakistan
Chinese Admitted University Name: Huazhong University of Science and Technology (HUST)
Program: PhD
Major: Higher Education
Type of  Scholarship:  Fully Funded Chinese Government Scholarship
Comment about CSC Guide Official( Scholarship Applying Journey):
Hi, my name is Irum Zeb I am doing my job as a  lecturer in the department of Education at Karakorum International University Diamer Campus.  I am grateful for my selection to a  reputed university named; Huazhong University of Science and Technology China(HUST), under the CSC scholarship, the process of applying for this scholarship was very much stressful for me because there are so many important steps, e.g., selection of university, contact to supervisor when to apply/important dates, documents verification etc. without proper guidance and counseling it is impossible to apply for the scholarship. 
I avail this scholarship with the help of my friend who is very closed to my heart and told me about the CSC guide official that from here we can get all the required information, and absolutely free, we both followed all the information together and won the scholarship. Further, my lovely brother Irfan Khan who helped me at every stage and provided us all the required information through his website/YouTube channel named: CSC Guide Official.
Thank you! Because, without this scholarship, I would not have had the opportunity to reach one of my goals.
Note: This is just for motivation, these students applied by themselves and get Fully-funded Scholarships. In Sha Alla next year your information will be updated here. These Students Follow the CSC Guide Official Website and get the latest updates. Follow the CSC Scholarship 2023-2024 Procedure.