Anam Noor Admitted to the Zhejiang University || China Scholarship 2023-2024 Admitted Candidates CSC Guide Officials Scholar wall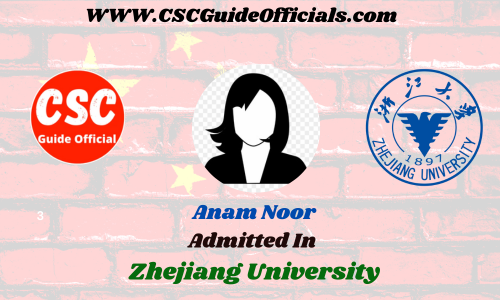 Student Name: Anam Noor
From: Faisalabad, Punjab, Pakistan
Chinese Admitted University Name: Zhejiang University
Program: PhD
Major: Food Science
Type of Scholarship: Csc Scholarship
Comment about CSC Guide Official ( Scholarship Applying Journey): One of the most authentic channel on youtube about Chinese scholarship. Thankyou so much for this effort to provide accurate information about each and every aspect of scholarship
Note: This is just for motivation, these students applied by themselves and get Fully-funded Scholarships. In Sha Allah next year your information will be updated here. These Students Follow the CSC Guide Official Website and get the latest updates. Follow the CSC Scholarship 2024-2025 Procedure on CSC Guide Official Youtube & CSC Guide Official Website.
Congratulations to Anam Noor for her incredible achievement of being admitted to Zhejiang University in China for a PhD program through the CSC Scholarship for the academic year 2023-2024! This accomplishment reflects Anam's dedication to her academic pursuits and her determination to excel in her field of study.
Hailing from Faisalabad, Punjab, Pakistan, Anam Noor's success story serves as an inspiration for individuals who are passionate about pursuing advanced studies with the support of fully-funded scholarships. Her commitment to her academic journey and her achievement of the CSC Scholarship are truly commendable.
Anam's comment about CSC Guide Official highlights the authenticity and reliability of the platform. By referring to CSC Guide Official as one of the most authentic channels on YouTube for information about Chinese scholarships, Anam underscores the importance of accurate and trustworthy resources during the scholarship application process.
Her expression of gratitude for the effort put into providing accurate information about every aspect of the scholarship journey showcases the positive impact such resources have on applicants. This also acknowledges the hard work of those who create and maintain platforms like CSC Guide Official.
The shared sentiment among successful applicants about the reliability of CSC Guide Official underscores the significance of utilizing reliable sources of information and guidance during the application process. It reinforces the importance of informed decision-making and effective preparation.
Anam's success story, along with her praise for CSC Guide Official, encourages other aspiring scholars to seek out credible resources and platforms that offer accurate information and guidance. It emphasizes the value of staying informed and prepared while navigating the complexities of the scholarship application process.
The collective success stories shared on the "CSC Guide Officials Scholar Wall" create a sense of camaraderie among scholarship applicants. These stories serve as a source of motivation and encouragement for those who are working diligently to secure opportunities for higher education.
Insha Allah, the stories of future scholarship candidates will continue to contribute to this narrative of achievement and inspiration. As these stories are shared and celebrated, they will inspire generations of scholars to pursue their academic aspirations with dedication, accuracy, and confidence.