Faizan Ikhlaq Admitted to the Sichuan University  || China Scholarship 2023-2024 Admitted Candidates CSC Guide Officials Scholar wall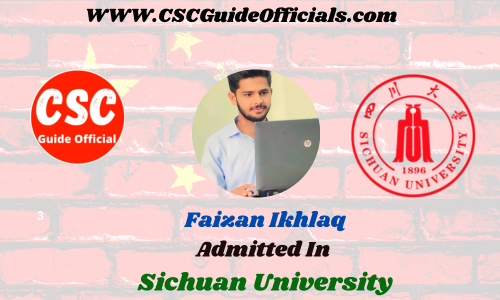 Student Name: Faizan Ikhlaq
From: Haroonabad, Punjab, Pakistan.
Chinese Admitted University Name: Sichuan University
Program: Master
Major: Chemical Engineering
Type of Scholarship: Belt and Road Scholarship
Comment about CSC Guide Official ( Scholarship Applying Journey): Allah has already planned the best thing for you. The practical example of that belief touched me when I was scrolling my youtube in search of scholarship. Luckily,a video came out in which two brothers talking about the required documents for china scholarship and procedure to apply and discusing the answers of all the question a scholarship searcher has in their mind. By watching that video,I analyze that these documents are not very difficult to prepare .In fact each and everything is provided there in Urdu language .From that day I started to follow the CSC guide official youtbe channel and website of that guide. Alhammdulliah, I got Selected in world ranked Sichuan university by the guidance of Ikram bhai and Ifran Bhai. More power to you man Doing a great job. Stay blessed
Note: This is just for motivation, these students applied by themselves and get Fully-funded Scholarships. In Sha Allah next year your information will be updated here. These Students Follow the CSC Guide Official Website and get the latest updates. Follow the CSC Scholarship 2024-2025 Procedure on CSC Guide Official Youtube & CSC Guide Official Website.
Congratulations to Faizan Ikhlaq for his admission to Sichuan University in China for the 2023-2024 academic year! Pursuing a Master's program in Chemical Engineering under the Belt and Road Scholarship is a significant achievement, and his hard work and determination are truly commendable.
Faizan Ikhlaq's account of how he came across CSC Guide Official's resources and how they played a crucial role in his scholarship application journey is inspiring. It's heartwarming to hear that the guidance provided in the videos and on the website helped him navigate the application process, understand the required documents, and answer the questions he had in mind. This is a testament to the value of accessible and informative resources for scholarship applicants.
The recognition of Ikram Bhai and Ifran Bhai's efforts in providing guidance and support through CSC Guide Official is a wonderful acknowledgment of their impact on aspiring scholars. Faizan's journey exemplifies the belief that with the right information and guidance, seemingly daunting tasks become achievable.
Faizan's success, along with other students who applied by themselves and secured fully-funded scholarships, serves as motivation for future scholarship seekers. The recommendation to follow CSC Guide Official's website and YouTube channel for updates and guidance is a valuable tip for those considering applying for the CSC Scholarship in the future.
Congratulations once again to Faizan Ikhlaq, and best wishes to all admitted candidates as they embark on their academic journey at Sichuan University!