Harbin Institute of Technology (HIT) Chinese Government Scholarship 2024-2025 || HIT University CSC Scholarship 2024-2025 CSC Guide Officials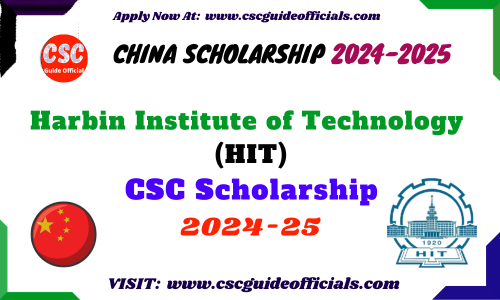 HIT University China Scholarship Council Scholarship Details 2024-2025

Authority: China Scholarship Council / Chinese Government Scholarship 2024-2025
Name of The University: Harbin Institute of Technology (HIT)
Student Degree: For Masters & PhD
Scholarship Type: Fully Funded Scholarship
Monthly Living Allowance: 3000 RMB/Yuan for Masters, 3500 for PhD Students
Method Of Applying: Just Online Apply
Application Deadline:  February 15th, 2024
HIT University Chinese Government Scholarship Eligibility Criteria For Students
Chinese Government Scholarship 2024-2025 is for All International Students

For Masters, Age Limit is 35, For Ph.D. Age Limit is 40 Years.

English Proficiency Certificate is Acceptable, IELTS is Optional

How to Apply For Harbin Institute of Technology Chinese Government Scholarship 2024-2025
You Need to Fill China Scholarship Council / Chinese Government Scholarship Online CSC Application Form

No, Need to Apply to the University Portal

Upload all required Documents on the China Scholarship Council / Chinese Government Scholarship Online Application Form

No, Need to Send to Hard Copies

Pay 400 RMB Application Fee

Submit all application documents to 

StudyatHIT@hit.edu.cn

HIT University Chinese Government Scholarship result will be announced at the end of July
How you fill CSC online application Form update method 2024-2025
Video In Urdu Click Here to Watch on Csc Guide's official YouTube channel
Video In English Click Here to Watch on Csc Guide's official YouTube channel
China Scholarship Council / Chinese Government Scholarship Online application form (Agency number For B-Category is 10213 )

Highest Degree/Diploma Certificate (Notarized copy) not Original

Transcripts The Highest Education (Notarized copy) not original

A study plan at least 1,000 words. The study plan for a doctoral degree program shall be approved and signed by the applicant's Chinese supervisor.  Click Here to Download the Format


Two Recommendation Letters

Passport Home Page

Physical Examination Form for Foreigners Click Here to Download the Format


Non-Criminal Record/ Police Clearance Certificate

English Proficiency Certificate (IELTS is not Mandatory)

Acceptance Letter (Not a must). Click Here to Download the HIT University Acceptance Letter Format

Bank Receipt of Material Assessment Fee: 60 USD or 400 RMB
Harbin Institute of Technology Available Majors for Chinese Government Scholarship 2024-2025
Master Degree Programs (Chinese-taught) Click Here to Get
Master Degree Programs (English-taught) Click Here to Get
Doctoral Degree Programs (Chinese-taught) Click Here to Get
Doctoral Degree Programs (English-taught) Click Here to Get
Scholarship Duration
The duration of master's degree programs typically takes 3 years to complete, but some schools and majors vary, as shown below.
2 years: School of Management, School of Instrumentation Science and Engineering, School of Life Science and Technology
2.5 years: Faculty of Computing, School of Architecture
The duration of doctoral degree programs typically takes 4 years.
Bank Details In Which You Deposit 400 RMB Application Fee :
Name of The Bank In which you Deposit Fee: Industrial and Commercial Bank of China, Harbin Da Zhi Branch
Bank Address: 318 East Dazhi Street, Harbin, People's Republic of China
Name: Harbin Institute of Technology (HIT)
Account Number of Number: 3500040109008900513
SWIFT/BIC Code: ICBKCNBJHLJ
Note: 1. The application fee is non-refundable. Currently, Alipay or WeChat payment is not supported.
Please mark the applicant's passport name on the remittance voucher.