Khubaib Ullah Admitted to the Shanghai Maritime University || China Scholarship 2023-2024 Admitted Candidates CSC Guide Officials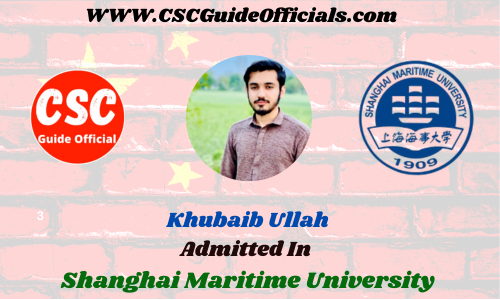 Name: Khubaib Ullah
From: Peshawar, Pakistan
Admitted University: Shanghai Maritime University
Program: Bachelors
Scholarship Type: Shanghai Government Scholarship Type A
Comment about CSC Guide Official ( Scholarship Applying Journey):
 Assalam O Alaikum.My name is khubaib ullah and i am from  Peshawar Pakistan.I have been following CSC Guide Official from 2 years and i am quite educated enough from the information that CSC Guide Officials have been sharing for some years.The fact that i am very proud on CSC GUIde Official and on myself that i got fully funded scholarship in bachelors degree without even having an HSK certificate which CSC Guide Officials themselves claim that is is quite difficult if not impossible.I thank CSC Guide Official for doing the best of the work and i hope more and more people takes advantages from this.May allah bless the the brothers behind CSC Guide Official with more success and happiness. Amen.
Congratulations to Khubaib Ullah on being admitted to Shanghai Maritime University in China under the Shanghai Government Scholarship Type A for the Bachelor's program! It's fantastic to hear about his successful journey in obtaining a fully funded scholarship despite not having an HSK certificate, which is considered challenging to achieve.
Khubaib's story reflects the power of determination and the benefits of utilizing valuable resources like CSC Guide Official. Following their guidance and information, Khubaib was well-prepared to apply for the scholarship and secure this opportunity for his higher education.
It's heartwarming to see Khubaib express his gratitude to CSC Guide Official and acknowledge the tremendous help they provided throughout his scholarship application process. Platforms like CSC Guide Official play a crucial role in disseminating relevant and accurate information to aspiring scholarship applicants, and their efforts have positively impacted the lives of many students, including Khubaib.
To those aspiring to apply for scholarships, Khubaib's success serves as motivation and a reminder that with proper guidance and dedication, achieving a fully funded scholarship is within reach. It also highlights the importance of staying informed and updated through resources like CSC Guide Official's website and YouTube channel.
We extend our best wishes to Khubaib Ullah as he embarks on his academic journey at Shanghai Maritime University. May he make the most of this opportunity and excel in his studies. We also hope that more students will benefit from CSC Guide Official's resources and achieve their academic dreams in the future.
Congratulations once again to Khubaib Ullah, and may his success inspire others to pursue their educational goals with passion and perseverance.
Note: This is just for motivation, these students applied by themselves and get Fully-funded Scholarships. In Sha Allah next year your information will be updated here. These Students Follow the CSC Guide Official Website and get the latest updates. Follow the CSC Scholarship 2024-2025 Procedure on CSC Guide Official Youtube & CSC Guide Official Website.