Muhammad Nadeem Madni Admitted to the Institute of high energy physics, UCAS || China Scholarship 2023-2024 Admitted Candidates CSC Guide Officials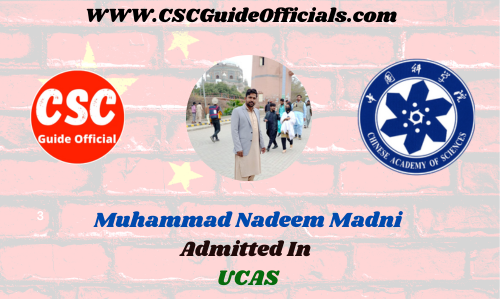 Student Name: Muhammad Nadeem Madni
From: Multan, Punjab, Pakistan
Chinese Admitted University Name: Institute of high energy physics, UCAS
Program: PHD
Major: Condense Matter Physics
Type of Scholarship: ANSO Scholarship
Comment about CSC Guide Official ( Scholarship Applying Journey):
Impressive work you are doing. This is sadqa e jaria. ALLAH pak will give a reward.
Congratulations to Muhammad Nadeem Madni on being admitted to the Institute of High Energy Physics, UCAS in China under the ANSO Scholarship for the PhD program in Condensed Matter Physics! It's truly impressive to hear about his success in obtaining a fully funded scholarship to pursue his academic journey.
Muhammad Nadeem Madni's story reflects the determination and hard work of students who apply for scholarships independently. It's inspiring to see students like him achieve their academic dreams and secure such opportunities through their own efforts.
We appreciate Muhammad Nadeem Madni's kind words of praise and gratitude towards CSC Guide Official for their impressive work and valuable assistance. Platforms like CSC Guide Official play a crucial role in providing guidance and support to scholarship applicants, making the scholarship applying journey more accessible and successful for many students.
To all the students aspiring to study abroad, Muhammad Nadeem Madni's journey is a reminder that hard work and dedication pay off. Utilize available resources and platforms like CSC Guide Official to enhance your scholarship application process and increase your chances of securing fully funded scholarships.
We wish Muhammad Nadeem Madni the best of luck as he begins his PhD program in Condensed Matter Physics at the Institute of High Energy Physics, UCAS. May he have a rewarding and successful academic journey and make significant contributions to the field of Physics.
Congratulations once again to Muhammad Nadeem Madni, and may his story inspire others to pursue their academic dreams with dedication and faith, knowing that hard work and sincerity are always rewarded.
Note: This is just for motivation, these students applied by themselves and get Fully-funded Scholarships. In Sha Allah next year your information will be updated here. These Students Follow the CSC Guide Official Website and get the latest updates. Follow the CSC Scholarship 2024-2025 Procedure on CSC Guide Official Youtube & CSC Guide Official Website.