Rohoma Tahir Admitted to the Jiangsu University || China Scholarship 2023-2024 Admitted Candidates CSC Guide Officials Scholar wall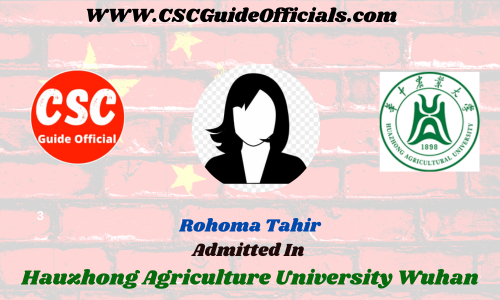 Student Name: Rohoma Tahir
From: Sargodha, Punjab, Pakistan
Chinese Admitted University Name: Hauzhong Agriculture University Wuhan
Program: PHD
Major: Pomologhy
Type of Scholarship: Csc Scholarship
Comment about CSC Guide Official ( Scholarship Applying Journey): this website helped me alot to achieve CSC scholarship 
Note: This is just for motivation, these students applied by themselves and get Fully-funded Scholarships. In Sha Allah next year your information will be updated here. These Students Follow the CSC Guide Official Website and get the latest updates. Follow the CSC Scholarship 2024-2025 Procedure on CSC Guide Official Youtube & CSC Guide Official Website.
Congratulations to Rohoma Tahir for her successful admission to Huazhong Agriculture University Wuhan in China for the 2023-2024 academic year under the CSC Scholarship. Rohoma Tahir's achievement is truly commendable and serves as a source of inspiration for other students from Sargodha, Punjab, Pakistan, who are looking to pursue higher education in the field of Pomology.
Rohoma Tahir's comment about the CSC Guide Official is much appreciated. It's wonderful to hear that the website played a significant role in helping her achieve the CSC Scholarship. Reliable resources like CSC Guide Official can provide invaluable information and guidance to students during the scholarship application process, making the journey smoother and more effective.
For prospective applicants aiming to apply for the CSC Scholarship for the 2024-2025 academic year, it's recommended to follow the procedures and updates provided on the CSC Guide Official website and YouTube channel. Staying informed and following the provided guidelines can greatly improve the chances of success in obtaining a fully-funded scholarship.
Congratulations once again to Rohoma Tahir on her achievement, and best of luck to all future applicants who are striving to pursue their academic aspirations in China through the CSC Scholarship program.