Sifat Ahmed Semel Admitted to the Shanghai JiaoTong University || China Scholarship 2023-2024 Admitted Candidates CSC Guide Officials Scholar wall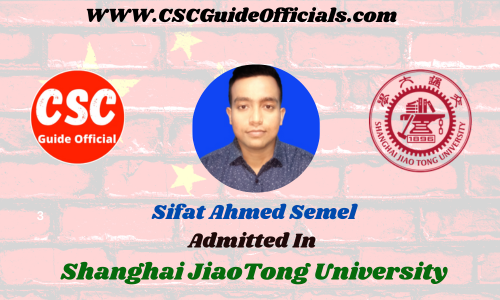 Student Name: Sifat Ahmed Semel
From: Bangladesh
Chinese Admitted University Name: Shanghai JiaoTong University
Program: Masters
Major: Energy and Power Engineering
Type of Scholarship: Csc Scholarship
Comment about CSC Guide Official ( Scholarship Applying Journey): At first, i wanted to apply in csc but didn't know any procesures.All the information and materials are scattered in different websites and they have no credibility or consistency. But to my surprise, csc guide official
website has it all the information needed.which is really wonderful and i would like to thank csc guide official team for their hard work.
Note: This is just for motivation, these students applied by themselves and get Fully-funded Scholarships. In Sha Allah next year your information will be updated here. These Students Follow the CSC Guide Official Website and get the latest updates. Follow the CSC Scholarship 2024-2025 Procedure on CSC Guide Official Youtube & CSC Guide Official Website.
Congratulations to Sifat Ahmed Semel for successfully securing admission to Shanghai JiaoTong University in China for the 2023-2024 academic year under the CSC Scholarship. Sifat's achievement is commendable and serves as an inspiration to other prospective students from Bangladesh looking to pursue higher education abroad.
Sifat Ahmed Semel's testimony highlights the challenges many students face when navigating the scholarship application process, especially when information is scattered across different sources with varying levels of credibility. It's heartening to hear that the CSC Guide Official website played a crucial role in providing comprehensive and reliable information about the scholarship application procedures. Sifat's positive experience with the CSC Guide Official team's efforts in compiling and presenting this information underscores the importance of having a reliable resource for aspiring scholarship applicants.
For those who are considering applying for the CSC Scholarship in the 2024-2025 academic year, following the guidelines and updates provided on the CSC Guide Official website and YouTube channel can significantly streamline the application process. This includes staying informed about the procedures and requirements, which can ultimately enhance the chances of a successful application.
Once again, congratulations to Sifat Ahmed Semel on this remarkable achievement, and best of luck to all future candidates aspiring to secure fully-funded scholarships for their higher education journey in China.