Adnan Javed Admitted to the Nanjing University of Aeronautics and Astronautics || China Scholarship 2023-2024 Admitted Candidates CSC Guide Officials Scholar wall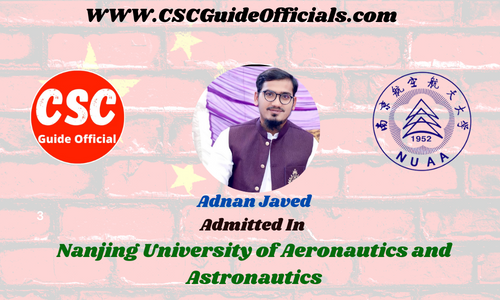 Student Name: Adnan Javed
From: Pakistan
Chinese Admitted University Name: Nanjing University of Aeronautics and Astronautics
Program: Master
Major: Mechanical Manufacturing and Automation
Type of Scholarship: Csc Scholarship
Comment about CSC Guide Official ( Scholarship Applying Journey): I want to express my heartfelt gratitude for your amazing videos. Thanks to your valuable content, I was able to secure a scholarship to study abroad. Your guidance and expertise made all the difference, and I am truly grateful for your contribution to my journey. Last Year, due to unforeseen circumstances, I could not get a scholarship, but this year, your guidance helped me a lot. Thank you lots of love brother
Note: This is just for motivation, these students applied by themselves and get Fully-funded Scholarships. In Sha Allah next year your information will be updated here. These Students Follow the CSC Guide Official Website and get the latest updates. Follow the CSC Scholarship 2024-2025 Procedure on CSC Guide Official Youtube & CSC Guide Official Website.
Congratulations to Adnan Javed on being admitted to Nanjing University of Aeronautics and Astronautics in China with a CSC Scholarship for the 2023-2024 academic year! It's always inspiring to hear success stories like this, where students are able to achieve their dreams of studying abroad with the help of valuable resources and guidance.
Adnan's story serves as motivation for other aspiring scholars, showing that with dedication, determination, and the right resources, it's possible to secure fully-funded scholarships and pursue higher education in their desired fields.
It's also great to see the appreciation expressed for CSC Guide Official's contributions in assisting students on their scholarship journey. Having access to informative content and expert guidance can indeed make a significant difference in the scholarship application process.
For those looking to follow in Adnan's footsteps and explore scholarship opportunities in the future, it's a good reminder to stay updated with CSC Guide Official's website and YouTube channel for the latest information and procedures.
Once again, congratulations to Adnan Javed, and may his academic journey in Mechanical Manufacturing and Automation at Nanjing University of Aeronautics and Astronautics be filled with success and fulfillment!