Ayesha Sabir Admitted to the Tianjin University || China Scholarship 2023-2024 Admitted Candidates CSC Guide Officials Scholar wall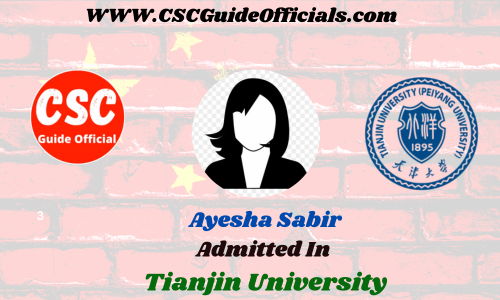 Student Name: Ayesha Sabir
From: Chakwal, Punjab, Pakistan.
Chinese Admitted University Name: Tianjin University
Program: Master
Major: Chemistry
Type of Scholarship: Csc Scholarship
Comment about CSC Guide Official ( Scholarship Applying Journey):
Note: This is just for motivation, these students applied by themselves and get Fully-funded Scholarships. In Sha Allah next year your information will be updated here. These Students Follow the CSC Guide Official Website and get the latest updates. Follow the CSC Scholarship 2024-2025 Procedure on CSC Guide Official Youtube & CSC Guide Official Website.
Congratulations to Ayesha Sabir for her successful admission to Tianjin University in China through the CSC Scholarship for the 2023-2024 academic year! Her accomplishment is truly inspiring and serves as a motivation for others who are aspiring to secure fully-funded scholarships.
Ayesha's journey highlights the significance of self-initiative and determination in the scholarship application process. By applying on her own, she has demonstrated her commitment to her educational goals and her ability to navigate the application procedure successfully. Her achievement reflects the possibilities that can be realized through dedication and careful preparation.
It's noteworthy that Ayesha and other admitted candidates benefited from following the CSC Guide Official website. This valuable resource likely provided them with crucial information and updates about the scholarship application process, helping them stay informed and confident throughout their journey. The reference to the CSC Guide Official YouTube channel also suggests that the platform offers multimedia resources, making it easier for students to understand the application procedures and requirements.
For those aspiring to secure a CSC Scholarship in the upcoming years, Ayesha's success story serves as a source of encouragement. By taking proactive steps, staying well-informed through reliable resources, and exhibiting determination, it's possible to achieve one's academic dreams and secure funding for higher education.
Insha Allah, with the hope and effort, the journey of future scholarship applicants will also be successful, and their achievements will be celebrated just like Ayesha's.