Faraz Hussain Soomro Admitted to the Anhui Agriculture University || China Scholarship 2023-2024 Admitted Candidates CSC Guide Officials Scholar wall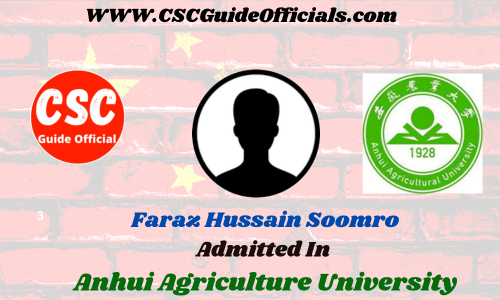 Student Name: Faraz Hussain Soomro
From: Khairpur mirs, Sindh, Pakistan.
Chinese Admitted University Name: Anhui Agriculture University
Program: Master
Major: Tea science
Type of Scholarship: Csc Scholarship
Comment about CSC Guide Official ( Scholarship Applying Journey):I get so much help from your YouTube channel. I mostly watch your YouTube videos.
Note: This is just for motivation, these students applied by themselves and get Fully-funded Scholarships. In Sha Allah next year your information will be updated here. These Students Follow the CSC Guide Official Website and get the latest updates. Follow the CSC Scholarship 2024-2025 Procedure on CSC Guide Official Youtube & CSC Guide Official Website.
Congratulations to Faraz Hussain Soomro for his admission to Anhui Agriculture University in China for the 2023-2024 academic year! Pursuing a Master's program in Tea Science under the CSC Scholarship is a remarkable achievement, and it's evident that his hard work and determination have led to this success.
It's wonderful to hear that Faraz found CSC Guide Official's YouTube channel to be a valuable resource in his scholarship application journey. The acknowledgment of their helpfulness in providing guidance and information speaks to the quality of content they offer to aspiring scholarship applicants.
Faraz's success, along with other students who applied independently and received fully-funded scholarships, serves as motivation for future scholarship seekers. It highlights the potential positive outcomes that can be achieved by utilizing available resources and taking charge of one's scholarship application process.
The note about following CSC Guide Official's website and YouTube channel for updates and guidance is a valuable piece of advice for future applicants. Keeping up with the latest information can certainly make the application process smoother and more successful.
Congratulations again to Faraz Hussain Soomro, and best wishes to all admitted candidates as they embark on their academic journey at Anhui Agriculture University!