Haroon Gulzar Admitted to the Central University of Finance and Economics || China Scholarship 2023-2024 Admitted Candidates CSC Guide Officials Scholar wall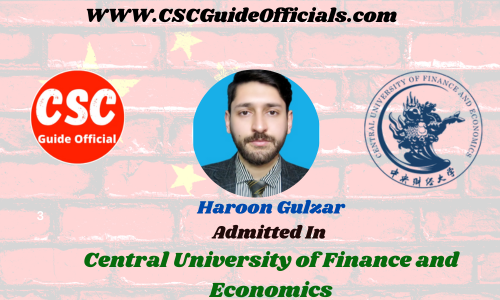 Student Name: Haroon Gulzar
From: KPK, Pakistan.
Chinese Admitted University Name: Central University of Finance and Economics
Program: Master
Major: Economics 
Type of Scholarship: Csc Scholarship
Comment about CSC Guide Official ( Scholarship Applying Journey): During the application procedure Csc Guide official helped me out in completing the application. Recommended for all those, who are interested to apply for china.
Note: This is just for motivation, these students applied by themselves and get Fully-funded Scholarships. In Sha Allah next year your information will be updated here. These Students Follow the CSC Guide Official Website and get the latest updates. Follow the CSC Scholarship 2024-2025 Procedure on CSC Guide Official Youtube & CSC Guide Official Website.
Congratulations to Haroon Gulzar for his remarkable achievement of being admitted to the Central University of Finance and Economics in China as a Master's student through the CSC Scholarship for the 2023-2024 academic term! This accomplishment reflects Haroon's dedication to his academic pursuits and his ability to secure a fully-funded scholarship.
Hailing from KPK, Pakistan, Haroon Gulzar's success story serves as a source of inspiration for individuals who aspire to pursue higher education with prestigious scholarships. His commitment to his educational journey and his proactive approach to the application process are evident in his achievement.
Haroon's positive feedback about CSC Guide Official highlights the importance of reliable resources during the scholarship application journey. The fact that he found assistance and guidance from CSC Guide Official while completing his application underlines the significance of credible sources that can help applicants navigate the complexities of the application process.
For those interested in applying for scholarships in China, Haroon's recommendation of CSC Guide Official is invaluable. It suggests that this platform offers practical guidance and support that can significantly enhance the chances of a successful application. This resource likely helped Haroon, and potentially others, to complete the application process smoothly and effectively.
Haroon's success story, along with his endorsement of CSC Guide Official, encourages aspiring scholars to seek out reliable sources of information and assistance during their application process. It demonstrates that with determination, appropriate guidance, and the right resources, it is possible to secure opportunities for higher education on an international scale.
As Haroon's achievements are celebrated for motivation, they contribute to a growing narrative of individuals who have successfully secured fully-funded scholarships through their efforts. Their journeys inspire others to pursue their academic dreams and serve as a reminder that through dedication and the right resources, one can achieve remarkable feats.
Insha Allah, the accomplishments of future scholarship applicants will continue to shine, and their achievements will further enrich the stories of success that inspire generations to come.