Sanan Ahmad Admitted to the Beijing Institute of Technology || China Scholarship 2023-2024 Admitted Candidates CSC Guide Officials Scholar wall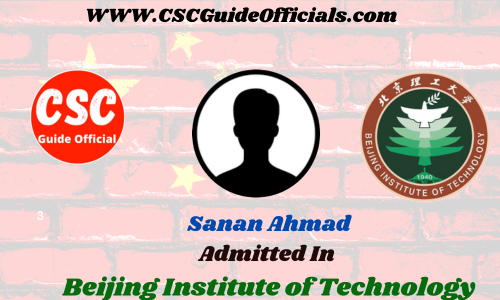 Student Name: Sanan Ahmad
From: Dera Ismail Khan, KPK, Pakistan
Chinese Admitted University Name: Beijing Institute of Technology
Program: PHD
Major: Physics
Type of Scholarship: Csc Scholarship
Comment about CSC Guide Official ( Scholarship Applying Journey):Irfan bhai its an honour for me messaging you. I am following your YouTube channel from 2021. May ALLAH PAK bless you more to help the creatures of ALMIGHTY ALLAH
Note: This is just for motivation, these students applied by themselves and get Fully-funded Scholarships. In Sha Allah next year your information will be updated here. These Students Follow the CSC Guide Official Website and get the latest updates. Follow the CSC Scholarship 2024-2025 Procedure on CSC Guide Official Youtube & CSC Guide Official Website.
Congratulations to Sanan Ahmad for his exceptional accomplishment of gaining admission to the Beijing Institute of Technology in China as a PHD student through the CSC Scholarship for the academic year 2023-2024! This achievement underscores Sanan's academic prowess and dedication to pursuing advanced studies.
Hailing from Dera Ismail Khan, KPK, Pakistan, Sanan Ahmad's success story serves as an inspiration for those who are aspiring to attain fully-funded scholarships for higher education. His commitment to his academic journey and his ability to secure a prestigious scholarship are commendable.
Sanan's comment about CSC Guide Official and its creator, Irfan bhai, showcases the appreciation and gratitude he feels for the guidance and support he received. By following the CSC Guide Official YouTube channel since 2021, Sanan not only benefited from the provided information but also expresses his well-wishes for the person behind the platform. This illustrates the positive impact and influence that such platforms can have on aspiring scholars.
The mention of blessings and gratitude to Allah further emphasizes the role of faith and humility in one's achievements. It's a testament to Sanan's gratitude and humility in the face of his success.
Sanan's journey, along with his words of appreciation, encourages others to seek out reliable resources and platforms that provide guidance and information for scholarship applications. It underscores the significance of consistent learning and following trusted sources in order to navigate the application process effectively.
The collective stories of these successful applicants, shared on the "CSC Guide Officials Scholar Wall," create a narrative of determination, aspiration, and achievement. As they motivate and inspire others, they contribute to a community of individuals who are working towards their academic dreams through hard work, dedication, and guidance from reliable sources.
Insha Allah, the stories of future scholarship candidates will continue to enrich this narrative of success and motivation, inspiring generations to come.